Queen's Award for Voluntary Service 2022
PFG have been awarded the highest award a voluntary group can receive.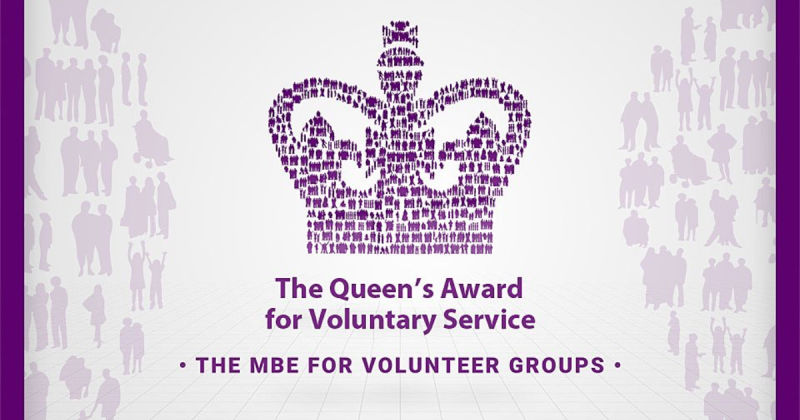 PFG Doncaster, an amazing group of active citizens from Doncaster, have just been awarded The Queen's Award for Voluntary Service. This is the highest award a local voluntary group can receive in the UK and is equivalent to an MBE.
On hearing news of the Award Kelly Hicks, founder of PFG Doncaster, said:
"This is a great honour and we are so thankful to receive recognition from HRH Queen Elizabeth II in this very special Platinum Jubilee year. 
"PFG Doncaster is a new kind of volunteering, because it brings together the whole community in mutual support and cooperation. It shows that the people who are often the recipients of charity can both volunteer and lead the way in transforming their own communities. We are all excited that this new form of volunteering is starting to be recognised and supported."
PFG Doncaster are pioneers of a radical form of Peer Support - people helping people. They are showing that major changes can happen when ordinary people are enabled to help each other. With peer support:
Small grants turn into millions of pounds of activity
Service users turn into active citizens with full and active lives
Deprived areas turn into powerful communities
Dr Simon Duffy, Director of Citizen Network Research said:
"PFG Doncaster has hundreds of members who - in normal circumstances - would be the recipients of services, charity or volunteering by others. The group includes people who have been institutionalised, abused and have lived with severe mental distress. Its members often face ongoing disadvantage because of disability, poverty, prejudice or exclusion. However its members work together so that these factors do not shape their fate, instead people reshape their own lives by proving support to each other and to the wider community."
Dr Rupert Suckling Director of Public Health, Doncaster Council said:
"In 2019 the council commissioned an exploration into the social value of the PFG approach looking at:
Extra funding drawn in by PFG
Leadership provided by staff and key volunteers
Peer support provided by PFG Members
Day Centre support provided at Wellness Centre
Membership support provided by PFG
Community Crisis provided by PFG
"The conclusion of this work was that for an investment of £4,000 a month PFG delivers over £230,000 of social value."
The Queen's Award for Voluntary Service
PFG Doncaster is one of 244 local charities, social enterprises and voluntary groups to receive the prestigious award this year. Their work, along with others from across the UK, reminds us of all the ways in which citizens are contributing to their local communities and working to make life better for those around them.
The Queen's Award for Voluntary Service aims to recognise outstanding work by local citizen groups to benefit their communities. It was created in 2002 to celebrate The Queen's Golden Jubilee. Recipients are announced each year on 2nd June, the anniversary of The Queen's Coronation.
"Equivalent to an MBE, QAVS are the highest awards given to local voluntary groups in the UK, and they are awarded for life."
Award winners this year are wonderfully diverse. They include volunteer groups from across the UK, including: a rural support group for farmers in Shropshire; a community magazine addressing isolation in the Western Isles; a running club engaging all ages in County Tyrone; a film academy and community hub based in South Wales, and a food bank in Greater London feeding vulnerable individuals and providing training opportunities.
Representatives of PFG Doncaster will receive the award crystal and certificate from Professor Dame Hilary Chapman DBE, Lord-Lieutenant of South Yorkshire later this summer. In addition, two members of PFG Doncaster will attend a garden party at Buckingham Palace in May 2023, along with other recipients of this year's Award.
Facts about the Queen's Award:
Lord-Lieutenants represent the monarch in each of the UK's ceremonial counties.
This year there are 244 recipients of The Queen's Award Voluntary Service from across the UK and Channel Islands.
More information on the recipients and the Award can be found at https://qavs.dcms.gov.uk/
Full details on how to nominate are available at https://qavs.dcms.gov.uk/
Nominations for the 2023 awards close on 15 September 2022.
Find out more about Peer Support
PFG Doncaster is also a member of the global cooperative Citizen Network and together with organisations around the world PFG Doncaster is sharing their experience and knowledge through a global peer support network. If you want to find out more you can join Citizen Network here.
If you want to connect to the global peer support network contact Markus Vähälä here.
Watch the following film made by PFG Members: